Denver Metro and the Front Range Siding Professionals
We are your siding installation and exterior design specialists. With an offering of siding and exterior products from many different manufacturers, we can design an exterior you can be proud of and afford. Our experts will install professional fiber-cement and premium vinyl siding so your house can be the talk of the neighborhood.
We install and repair the following types of siding:
Love Your Home's New Siding
Whether you're adding new siding or replacing your existing siding, siding is one of the most important investments you'll make to your home and one that comes with a lot of different choices. The decision to re-side your home is more than likely one you'll make once and live with for a long time. That's why it's so important to get all of the facts and make the right choice about siding for your Colorado home!
Home Design Exteriors can help you make sense of all the siding and trim options as you are making decisions. Contact us today and we can answer all your siding questions and schedule you for a free in-home siding consultation. Home Design Exteriors is your premier siding contractor!
We proudly offer the top brands in the siding industry, including: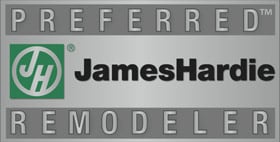 Why Buy James Hardie Fiber Cement Siding?
0% FINANCING FOR 18 MONTHS!
Offered through GreenSky