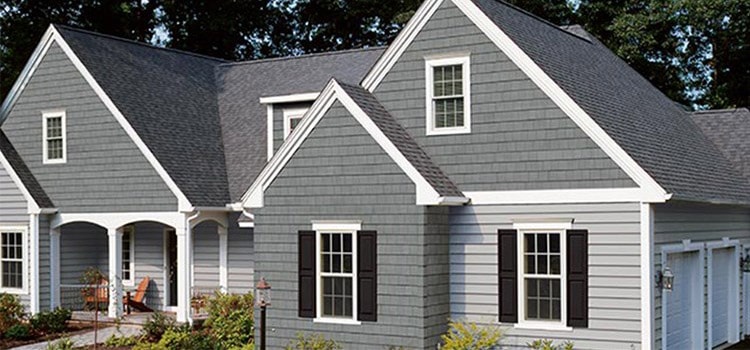 Expert Vinyl Siding Installation
Vinyl siding is the ideal replacement for wood home exteriors that are starting to show their age. Vinyl siding looks much like wood, including a wood-grain type of finish. For upgrading a home exterior, vinyl siding is the perfect choice. It works equally well for rental properties, fix-and-flips, and other commercial or residential projects that rely on a lower price point.
Typically, vinyl siding is used for single-family houses priced in the $250,000-and-below range. About a third of vinyl siding production goes into new construction, while the remodeling industry uses the remainder. For many Colorado homes, vinyl siding is a highly popular replacement product.
Our Preferred Vinyl Siding Brands:
CertainTeed
For more than a century, CertainTeed has produced vinyl siding products you can trust. The company is the industry leader in polymer and vinyl siding; for many years, CertainTeed has been rated the top brand by architects, builders, remodelers and consumers alike.

Perfect for Colorado Climates
Thanks to recent advances, higher-end vinyl siding now includes ultraviolet stabilizers that resist the breakdown UV light can cause. Most major producers apply a UV coating to the siding surface to filter the sun's UV rays — which otherwise would cause the polyvinyl chloride material to deteriorate. The product is ideally suited for dry climates because it "yellows" less than in wet climates.
Environmental Pros and Cons of Selecting Vinyl Siding for Your Home
PVC, an extruded thermoplastic polymer, has advantages and disadvantages when it comes to the environment. The pros include:
Less energy required for production than with other varieties of siding. With more than 2 billion square feet of siding produced every year, the energy savings add up.
A "green" product with significant ability to insulate and save heat, which conserves a large amount of energy. Consumers benefit with a noticeable decrease in utility costs for cooling and heating their homes.
A reduced requirement for painting results in fewer toxins being released into the water and air.
Recyclability of new vinyl siding, including leftovers from job sites and factory remnants. Older products removed as part of remodeling cannot be recycled. Unfortunately, no producers currently are making vinyl siding from recycled materials. However, most consumers feel that the energy-saving characteristics — in both the manufacturing and installation processes — make up for the lack of recycled content.
With an increasing number of homeowners concerned about saving energy — and looking for improvements that make a significant impact on their home's appearance at a reasonable price point — it looks like vinyl siding will keep its spot as a highly popular choice for the foreseeable future.