The Premier Siding Choice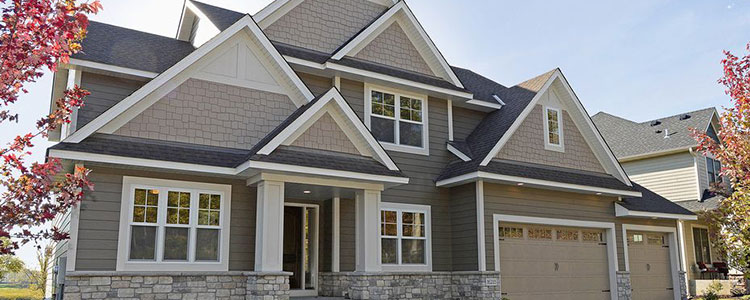 At Home Design Exteriors, our specialty is installing fiber cement siding throughout Denver and the Douglas County area. Our customers rely on fiber-cement siding for its durability, minimal maintenance and significant enhancement of their homes' value and curb appeal.
Does your home need new siding? If so, fiber-cement siding is one of the best choices you can make. With this siding, you get all the benefits you'd expect from a high-quality siding product. As specialists in fiber cement siding, Home Design Exteriors can provide you with a personal consultation and recommendation for your home.
Fiber-Cement Siding: Benefits
When you choose fiber-cement siding, you reap a range of benefits. The investment is well worth the cost of repairing or replacing the siding on your home.
You can expect multiple advantages from fiber-cement siding, including:
Resists fire.
Minimal maintenance.
Resists rotting.
High quality.
Resists warping.
Resists all types of weather conditions.
Resists pests.

Fiber-Cement Siding: Remodeling Projects' Highest ROI
For the 11th consecutive year, James Hardie® fiber-cement siding provides you with the highest return on investment you can get from deluxe remodeling projects. As a homeowner, you can choose among many remodeling options, but only installing new fiber-cement siding gives you the most favorable return on your investment.
Click here to view the 2015 Cost vs Value Report >>

The Fiber-Cement Siding Advantage
A blend of cement, sand and cellulose fibers characterizes fiber-cement siding. As a result, you get a strong, durable product that provides an appearance similar to wood, stone and brick — which is why so many homeowners choose it.
Home Design Exteriors Specializes in Fiber-Cement Siding
Home Design Exteriors' siding contractors are the some of the best in the local area. When we visit your home, our professionals assess all aspects of the project, including the siding that is currently installed. We provide you with recommendations and work closely with you to determine the ideal solution.
After we agree on your siding choice, we begin the installation process. We oversee the project from start to finish, giving you peace of mind. In addition, we offer a comprehensive warranty on all our work.
Our installers closely comply with all installation instructions from the siding manufacturer. Our careful attention to detail helps ensure that your warranty remains valid to fully protect your siding investment.
Our installers follow all of the siding manufacturer's installation instructions to ensure that your warranty stays valid to protect your investment.
You'll Love How Your Home Looks
After your fiber-cement siding installation, you'll love the new look of your home. Our clients rave about the results and can't believe how much more attractive the siding looks when it's installed on their homes. Not only is fiber-cement siding resistant to all sorts of weather conditions — from rain to snow to extreme heat — but it's also pest-resistant, making it the perfect choice for every homeowner.