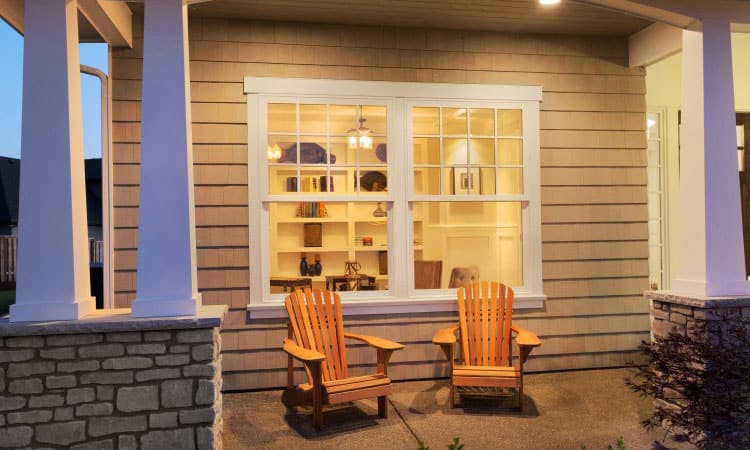 A home fire can be a tragedy for a family, destroying or damaging their residence and threatening their lives. Statistics show that home fires cause $7 billion a year in damages in the United States.
Therefore, it makes good sense to choose a home siding that reduces the chances of a fire starting. As one of Colorado's longest-serving and trusted remodeling experts, we are quick to recommend Hardieplank siding to customers – for its durability, look and safety.
What is Hardieplank?
James Hardie siding is one of the best investments you can make for your home. A highly recognized name in the building industry, it requires minimal maintenance, is weather, insect and fade resistant, can add to the value of your home, and simply looks great.
The high-quality fiber-cement siding also resists rotting, warping and, to the point here, fires.
Hardieplank siding offers a blend of cement, sand and cellulose fibers, which are strong, durable and can achieve an appearance similar to wood, stone, and brick.
Fire-Resistant Siding
Hardieplank siding's fiber cement composition is a concrete-based fire resistant composition that greatly reduces the chance of your home siding catching on fire. Its resilience comes from a combination of wood pulp, Portland cement, water and fly ash or silica sand.
If you live in an area that suffers from a lot of wildfires, Hardieplank siding for your home is a very good investment. While nothing can guarantee to save your home from a serious fire, Hardieplank siding ups your odds of survival, helping to protect your home from stray embers and, in some cases, even light flames.
Experts in Hardieplank Siding
As Douglas County and Denver area's trusted siding and window professionals, Home Design Exteriors are specialists in fiber-cement siding, including Hardieplank. We will work with you to find the best solution for your home, installing the siding with true fidelity to the manufacturer's instructions, ensuring that its warranty is protected.
Our clients love how Hardieplank siding looks, as well as the protection in provides from weather, pests and fire.
James Hardie products include:
Hardieplank siding
Hardiepanel siding
Hardie Board siding
Vertical lap siding
Hardieshingle siding
And other siding, soffit and trim options
Customized for the Climate
Not all fiber cement products are created equal. Only James Hardie's are specially engineered for climate differences, including Colorado's extreme variances, with cold, snow and heat. The James Hardie products are created to resist cracking, swelling and shrinking through years of freezing and wet weather, as well as humid, hot conditions.
Call Home Design Exteriors today to schedule a free home remodeling quote.