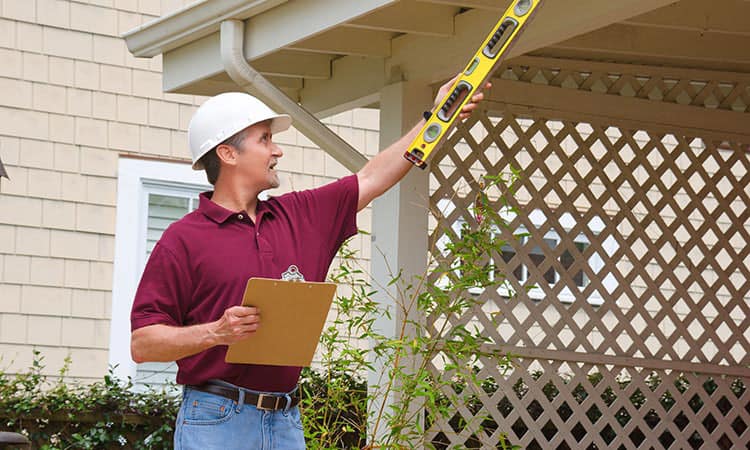 As a homeowner, you probably want to do as much as you can to make your home both beautiful and enjoyable for yourself and your family. You may even want to transform your home into one that turns heads when people drive down the street.
From the outside alone, a house can create a certain impression in the minds of those who perceive it. To maintain your home's beauty you'll want to properly maintain the exterior of your home. But having a stunning external look isn't the only reason to maintain the exterior of your home.
Proper home maintenance can prevent larger problems from occurring, reduce the potential for severe weather damage, and can also increase the value of your home should you decide to sell it. And while you may not be in a place where you want to sell your home right now, it's always a good idea to maintain your home, as you might decide to sell it later.
A professional siding job adds value to your home.
When you purchased your home, you may have been decently satisfied with the existing siding, but is it really working for you? If you're not sure your current siding is in good repair, or if it's become an eyesore for you, one of the best ways to make your home's exterior shine is to have a siding contractor install the best possible siding on your home.
Since a siding job requires making some decisions that can appear complex, here are 5 things a professional siding contractor can help you with when it comes to re-siding your home for beauty and safety:
1. Consider the maintenance factor
No home is completely maintenance-free. Every aspect of your home, both inside and out, will require some kind of maintenance at some point in time—including your siding.
If you're not likely to want to get out there and regularly maintain your siding or make small routine repairs, you'll want to choose a siding material that is much more durable long-term. A professional contractor can help you determine which material is the right choice for you based on how much maintenance effort you're realistically willing to put into it.
2. Choose the right siding material
If regular maintenance doesn't appeal to you, fiber cement siding would be a great solution, especially if you don't like the idea of having to sand or repaint often. Fiber cement siding comes in a wide range of colors, and some types of James Hardie siding can even help insulate your home.
Fiber cement siding is also able to withstand more variations in weather. It doesn't shrink and expand like vinyl does, and it won't crack or rot. This means you won't have to constantly replace pieces of your siding.
Fiber cement siding is also completely fireproof, which significantly reduces the risk of your home being damaged in a fire.
When you connect with one of our professional siding contractors at Home Design Exteriors, they can go over your material choices to make sure you know exactly what kind of maintenance will be required for each material. And you'll also be able to discuss what siding materials are correct for your home in relation to how the weather may affect it, especially in winter and summer when the weather tends to be more extreme.
3. Consider the energy efficiency of each material
When you want to create a greener home, the best place to start is with your siding job. This is because your siding can do more than just look good—it can actually insulate your home as well.
Specific siding materials can contribute to an energy efficient home by reducing the need to continuously run your central air or heat. Vinyl siding and James Hardie insulated siding are both good choices, although James Hardie fiber cement siding has a few more benefits than vinyl.
First, let's explore the benefits of vinyl siding:
• Vinyl is about $5 per square foot, which is more than two times cheaper than cedar clapboard.
• Vinyl siding comes in varying thicknesses from 0.35-0.55 inches thick.
• It's flexible, reducing the potential for damage in fluctuating weather.
• Vinyl offers the lowest maintenance of siding materials because unlike wood, it doesn't need to be sanded or stained.
• It can be cleaned with soap and water.
• Individual panels can be replaced if they become worn.
Next, let's explore the benefits of James Hardie fiber cement siding:
• It's completely non-combustible (fireproof).
• ColorPlus Technology helps reduce the chances of fading by up to 30 percent.
• Colors are all computer matched which means you'll see better consistency.
• James Hardie fiber cement siding is built to withstand winds of 150 miles per hour.
• It's resistant to warping, rotting, and cracking.
While vinyl siding may be cheaper, it's extremely flammable and can easily melt or burn when exposed to heat or flames. Although individual panels of vinyl siding can be replaced, it's more difficult to match in color.
Some other reasons to choose fiber cement siding over vinyl are:
• Vinyl can be severely damaged in high winds.
• Although it comes in varying thicknesses, vinyl is still 5x thinner which doesn't provide much protection for your home.
• James Hardie fiber cement siding can add serious curb appeal to your home in the same way wood siding can, but without the potential for damage. While vinyl attempts to look like wood, it can look artificial.
• Many homeowners insurance companies will provide you with a discount on your premium when you install James Hardie fiber cement siding.
4. Choose the correct color scheme and texture
You may not have thought about it, but it's important to make sure your siding matches your roof as well as the architecture of your home. You'll also want to make sure your siding decently matches your neighbors' homes. While you don't need to be twins with your neighbors, you probably don't want your home to stand out like a sore thumb.
A professional siding contractor has the experience necessary to help you determine which siding materials are going to work best for your home's color scheme and architecture.
5. Know if your existing siding is beyond repair
Sometimes siding can be repaired, and sometimes it needs to be completely replaced. A professional siding contractor can determine whether your siding job is beyond repair and needs to be replaced, or if all you need is a little repair and better maintenance.
Contact a professional siding contractor for a free quote.
Contact us at Home Design Exteriors for a free quote on your new siding job. We'll talk with you and answer any questions you may have about what type of siding is right for you.
Connect with us today and we'll help you build a beautiful home you can be proud of.